We love creating unique styles and transformations for our clients in the Cabin of Creativity and we really want to show you what we've been working hard on. Here are just two of the hair transformations that we have created in the Cabin of Creativity.
Amanda's Pink Dream Transformation
Here is Amanda's colour journey
From a purple root stretch, with a lavender pink balayage breaking up her root stretch, Amanda gets very creative on every hair appointment.
We use a lot of semi permanent colours to let the colours fade out, meaning we have nearly a blank canvas to do something different in six weeks.
Amanda's purple root stretch from before is permanent though, as we try to use as little bleach as possible to look after the hair.
To create this look, we did some highlights through her Partin and sides to break up her root stretch from before, using a mild bleach lightener only on the purple area, lifting her up to a soft blonde.
We then toned all the blonde hair, melted down from the root into a new lavender pink emily created just for Amanda.
BEFORE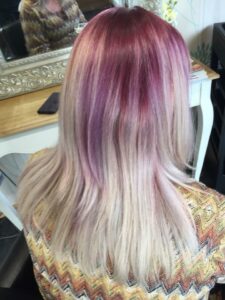 AFTER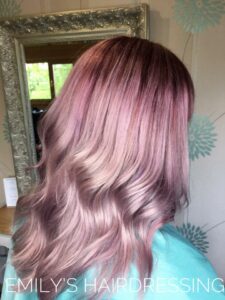 Carly's Beautiful Hair Transformation
Here is Carly's journey
Last week Carly came in to go blonder and more ash,
On her previous appointment,
carly was very dark, and we stripped all the old colour out which was very dark on Carly's last hair appointment, which brought her to a lovely light warm brown/ dark blonde, and we let the colour fade out. Which released a lot of warmth from letting the hair fade,
eight weeks later she booked back in
Swipe for the before, from the colour fade
We lifted carly up lighter, using bleach and of course olaplex to protect the hair,
We then used an ash pearl toner to neutralise any of the yellow left in the hair,
And we put a dark root in and smudged the dark root out to create carly a colour transformation with a dark root so her roots aren't showing in two weeks
BEFORE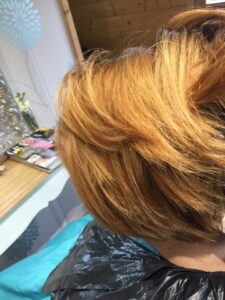 AFTER